Free Webinar – Sept 5, 2018 – 1 PM Eastern
Please Register for our Webinar on Securing and Monitoring your AWS Cloud with Splunk.
Please download our Webinar Slides here
The video is now available here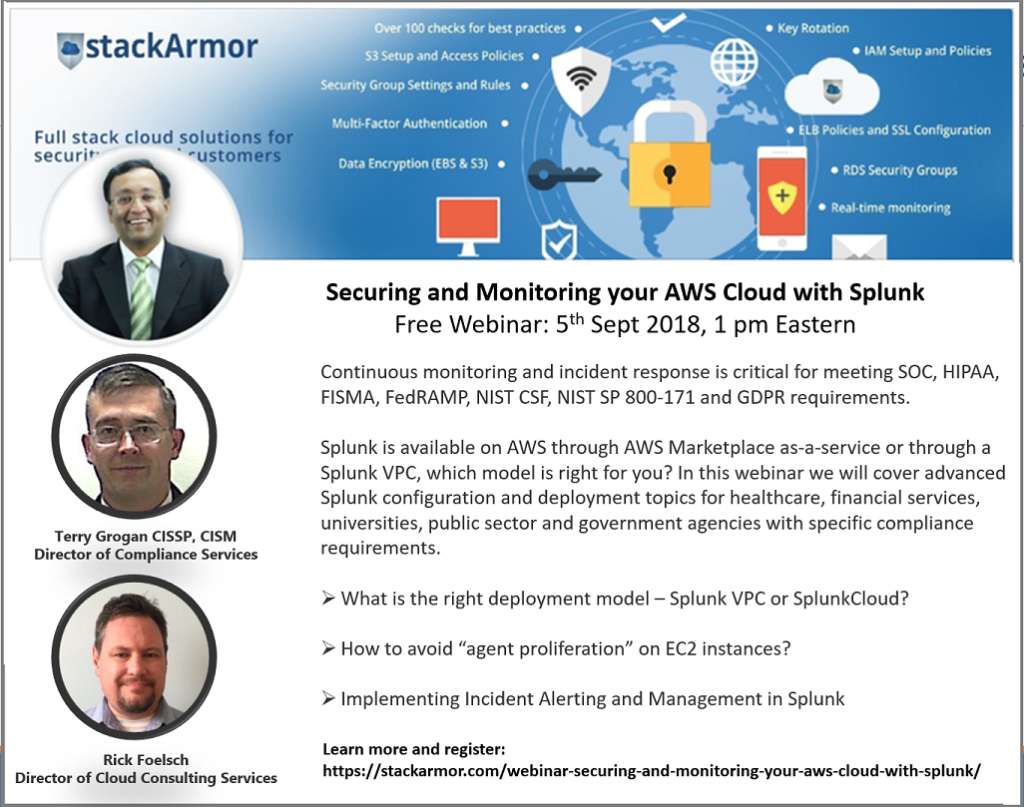 Implementing a strong continuous monitoring program is critical for meeting security and compliance requirements mandated by SOC 2, HIPAA, FISMA, FedRAMP, NIST CSF and GDPR. Splunk is a powerful tool to help organizations implement a robust and meaningful continuous monitoring and compliance program. In this webinar we will cover advanced Splunk configuration and deployment topics for healthcare, financial services, public sector and government agencies with specific compliance requirements.
Key topics we will cover include:
1. Selecting the right deployment model – Splunk VPC or SplunkCloud? We will discuss critical due diligence criteria including in-boundary or out-of-boundary deployment depending on compliance framework.
2. Do you want to avoid too many agents on the instances and not use Universal Forwarding? Security conscious organizations want to limit the number of agents on the instance. Using a AWS CloudWatch native agent instead of Universal Forwarder to collect log data can help make it easier to maintain the configuration baseline and still use Splunk to collect and analyze logs.
3. Do you need a incident response and alerting capability? Splunk offers an in-built Alert Manager to collect and report incidents. We will demonstrate a live deployment that includes a Alerting capability.
About stackArmor:
stackArmor is headquartered in Washington DC USA and is an Advanced AWS certified provider of Security & Compliance, Cloud migration, DevOps enablement, Cloud-native IOT and Data Analytics solutions. As an AWS Authorized Reseller, AWS Public Sector Partner and AWS GovCloud competency holder, stackArmor specializes in delivering secure and compliance oriented IT solutions to regulated industries in Government, Financial Services, Healthcare, Non-profits and Energy. We specialize in compliance with NIST CSF, HIPAA, FISMA, FedRAMP and GDPR.