Archive by category "Blog"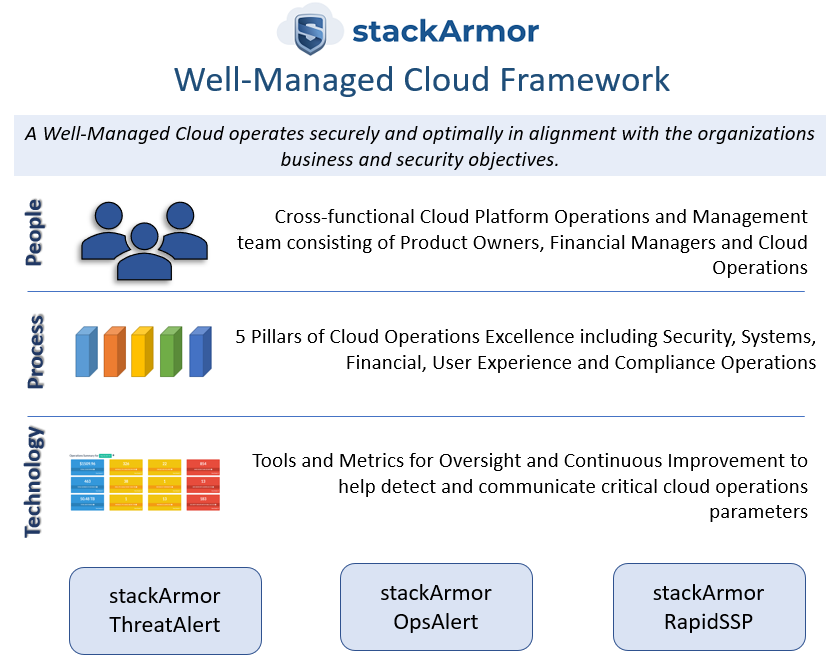 stackArmor has developed the Well-Managed Cloud Framework based on over 10 years of cloud operations experience. Current cloud frameworks are focused on migrations, establishing landing zones and providing optimized hosting models – they do not address issues around post-migration operations. stackArmor's Well-Managed Cloud framework draws upon best practices from Amazon's Well Architected Framework, Microsoft's Cloud … Continue reading stackArmor Well-Managed Cloud Framework →

Managed cloud billing and security monitoring service for AWS customers that offers dashboards

It is critical to establish a secure and scalable cloud architecture that meets enterprise needs
Organizations are looking for ways to modernize and migrate their applications to the cloud. Amazon Web Services (AWS) offers a compelling set of infrastructure, automation

Given the increasing focus on cybersecurity, supply chain risk and compliance requirements – businesses are being asked to provide evidence

stackArmor has years of experience in security assessment and authorizations in compliance with NIST, FISMA, FedRAMP and HIPAA

WAF or web application firewall helps protect your web applications from common web exploits such as SQL injection, Cross site scripting or XSS, HTTP flood attacks etc.

FedRAMP, FISMA and DFARS mandates for Government and Department of Defense focused systems

Most organizations find it challenging to implement a robust continuous threat monitoring program

Sitecore is a popular digital marketing platform used by marketing organizations in a variety of industry