US Government & Defense Agencies are modernizing using FedRAMP accredited cloud services. Learn how you can reduce the time and cost of obtaining FedRAMP Authorization by leveraging the ATO on AWS program.
Date: Feb 26th, 2020
Time: 1PM Eastern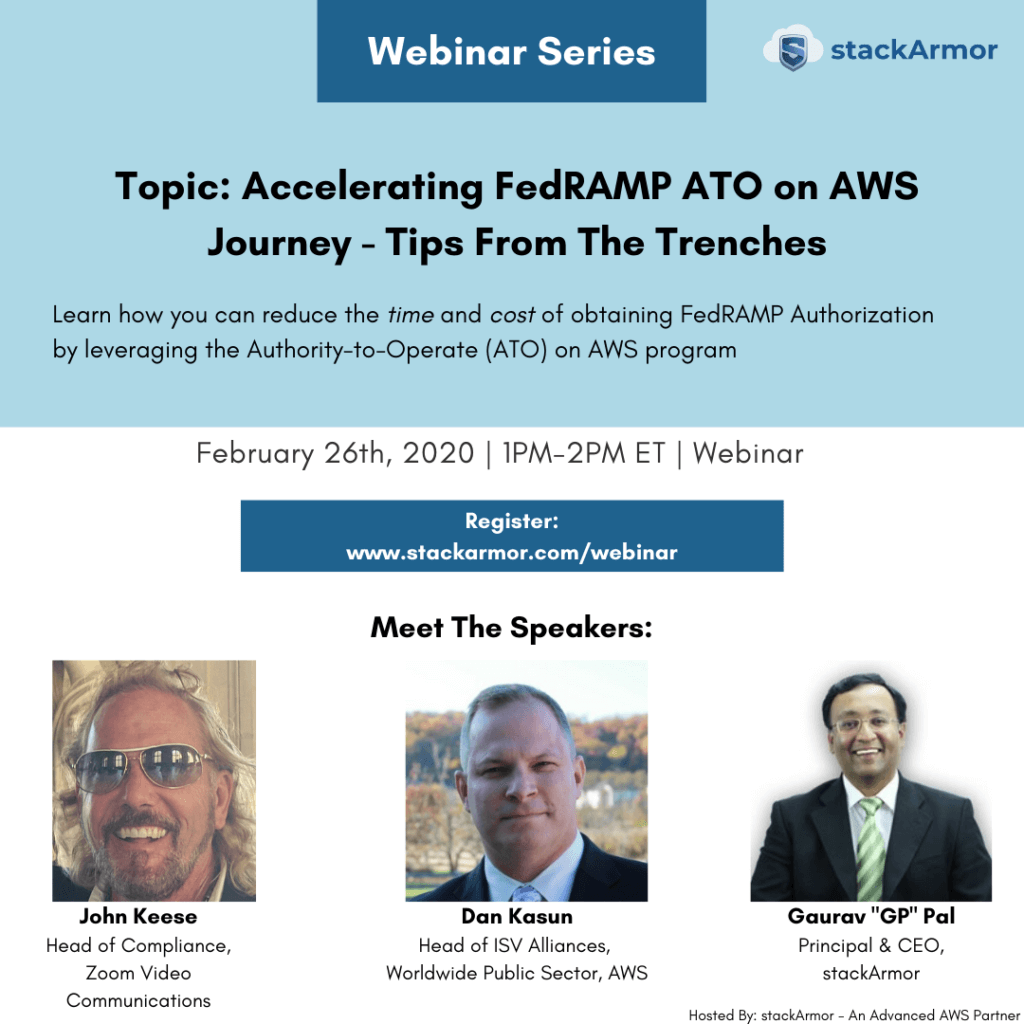 Agenda:
Welcome and Logistics (5 mins) – stackArmor, Inc
Overview of ATO on AWS Program (15 mins) – Dan Kasun, AWS
Reduce time & cost of ATO's with stackArmor ThreatAlertTM (15 mins)
Lessons from Zoom's FedRAMP ATO Journey (15 mins) – John Keese
Q&A and Wrap-up – (10 mins)
Speakers:
John Keese, Head of Compliance, Zoom Video Communications
John is an experienced cloud, security and compliance technology leader having successfully worked on multiple FedRAMP ATO's programs since 2012.
Dan Kasun, Head of ISV Alliances Worldwide Public Sector, AWS
Dan leads the ATO on AWS program for helping ISV's and SaaS providers deliver compliant cloud services to Public sector customers.
Gaurav "GP" Pal, Principal and Founder, stackArmor, Inc
GP has successfully led multiple FISMA, FedRAMP and DFARS compliance projects on AWS for US Federal Agencies and Commercial Clients including Department of the Treasury, Department of Education, and Fortune 500 customers serving public sector customers. He is a Fed 100 and GCN Rising Star award recipient for driving cloud adoption and compliance automation. He is actively supporting Agile ATO and Continuous ATO initiatives to help reduce the time and cost of compliance projects for cloud systems.