Continuous monitoring of AWS cloud accounts for FedRAMP, FISMA and CMMC compliance for DOD and Federal Agencies and Commercial Cloud Service Providers. stackArmor OpsAlert™ provides the only "in-boundary" solution for cloud security governance for Federal Information Assurance, CISO and System Owners to easily detect and monitor critical AWS cloud services compliance with FedRAMP Moderate, High or DOD IL-4 or DOD IL-5 levels; encryption status of disks and s3 buckets and timely alerts on critical account activity. Contact us for a free trial and see for yourself how you can improve your cloud security posture and save money on costly third-party software.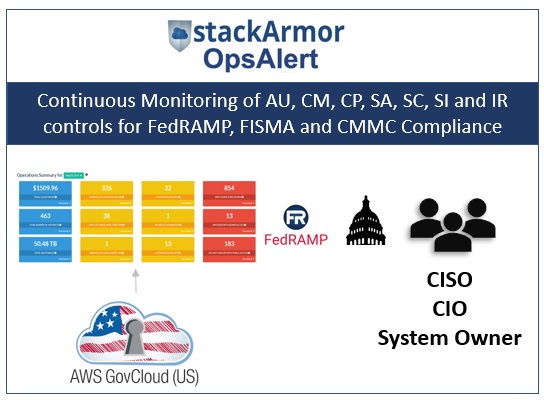 stackArmor OpsAlert™ is a cloud security and continuous monitoring and governance solution for FedRAMP, FISMA and CMMC compliance. stackArmor OpsAlert™ provides actionable intelligence across  the entire portfolio of AWS and AWS GovCloud accounts with dashbaords, alerts and reporting for meeting continuous reporting requirements. Key elements of the solution include:
FedRAMP Compliance Manager. Monitor all operating AWS cloud services across AWS accounts and regions to detect non-compliant services that have not been accredited by FedRAMP or DISA.
Data Loss Prevention (DLP). Comprehensive view of EBS volume encryption status and S3 bucket security across accounts and regions including AWS GovCloud.
Continuous Monitoring. Single consolidated view across AWS accounts of new instances, deleted instances, CPU activity and Lambda function invocations to detect unusual usage activity. Daily alerts with 24/7 monitoring available.
Governance and Tagging. Powerful custom tagging of AWS accounts by Impact Level, Contract Award Number, Vendor and Root Email and custom tags for multi-cloud management.

(opens in a new tab)
The ability to continuously monitor discrete cloud services and accounts is critical for Commercial Cloud Service Providers (CSP) looking to meet FedRAMP and DISA accreditation requirements as well as Federal Agency CISO's and Systems Owners looking to drive accountability across the portfolio of AWS Accounts. Contact us for a free demo.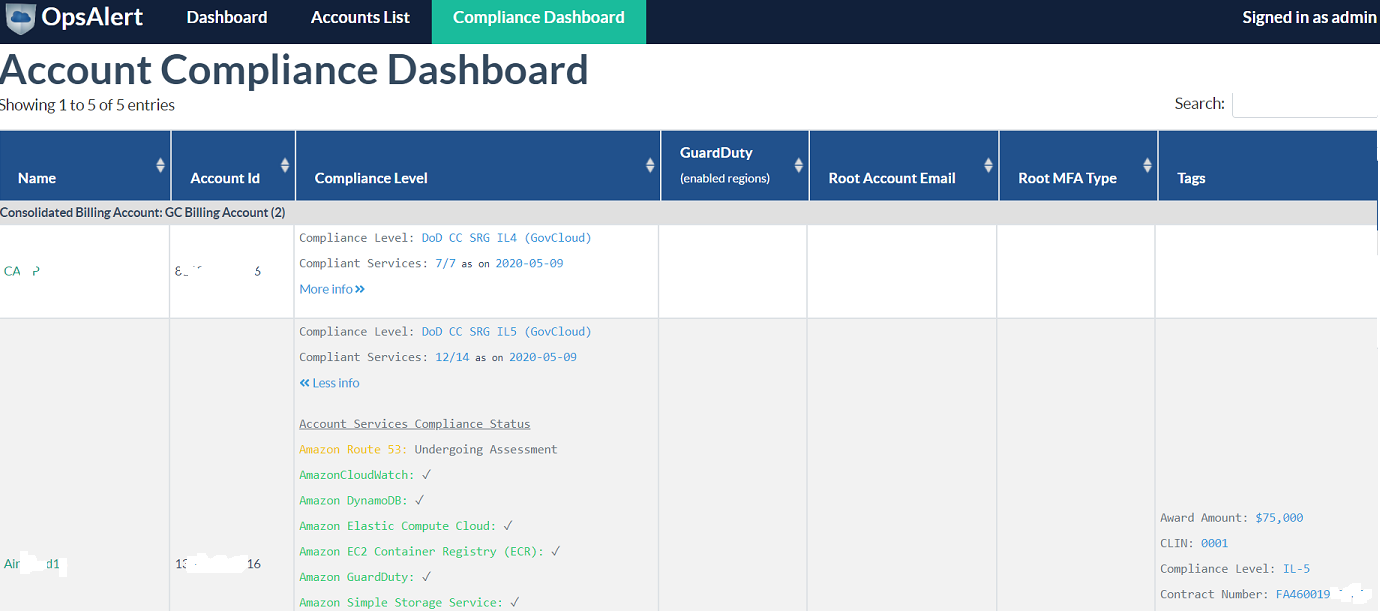 Continuous Monitoring for FedRAMP, FISMA or CMMC compliance is a critical requirement for CSP's and Federal Agencies. Key NIST security control families supported by stackArmor  OpsAlert™ include:
Audit and Accountability (AU).  The solution provides a separate monitoring and auditing system with segregation from the main production system. Comprehensive protection of audit information with reporting, alerting and dashboards provides ready compliance with AU-6 and AU-9 security controls among others.
Security Assessment and Authorization (CA). Powerful dashboards and emails satisfy continuous monitoring controls, as well as documentation support for applicable FedRAMP and DISA accredited cloud services across regions and AWS accounts. Includes specific support for CA-7 and CA-3(3)(5)  amongst other controls.
Configuration Management (CM). Simple and comprehensive view to all cloud services for reporting and monitoring of cloud assets within a given account and region. Includes the ability to filter views across portfolio of accounts or sub-select specific accounts. Supports CM-8 controls for system inventory.
Contingency Planning (CP). Ability track and monitor snapshot backups and compliance with retention policies ensures that backups are taken in a timely manner. Supports specific compliance with CP-9 related to information system backups monitoring.
Incident Response (IR). Provides the ability to rapidly view additions of instances, deletes and CPU activity for potential denial of service monitoring as well as Lambda functions.
System and Services Acquisition (SA).  The solution provides the ability rapidly detect and monitor addition of new cloud services within the AWS account(s) and regions. Specifically includes support of SA-9 controls.
System and Communications Protection (SC). OpsAlert provides support for multiple SC controls for monitoring information protection for data at rest through encryption of EBS volumes and S3 buckets.
System and Information Integrity (SI). The OpsAlert service provides comprehensive monitoring of all cloud services from multiple data sources across all accounts and regions. 
stackArmor OpsAlert™ is tailored for compliance focused organizations that must meet stringent continuous monitoring and reporting requirements of their AWS hosted systems. In addition to the OpsAlert service, we offer fully managed cloud operations and compliance support services that meet FedRAMP and DISA/DOD requirements. stackArmor provides flexible solutions depending on organizational need:
Dashboard and Alerts: Subscription includes 24/7 monitoring of systems, cost and security parameters with in-built reporting and monthly review call with cloud operations analyst.
Managed Security Services: Dedicated cloud operations support team with responsibility to provide active management and monitoring of security state changes. This includes monitoring administrative accounts, security groups, s3 buckets and other high risk configurations. 
Managed Services: Provide hands on technical remediation and operations support through certified AWS systems administrators and management specialists for both Windows and Linux environments. 
Please feel free to contact us and schedule a free demo of stackArmor OpsAlert™. The dashboard provides a quick view of the twelve cards that are critical for management oversight of cloud products. stackArmor OpsAlert™ is part of our larger suite of managed services collectively referred to as the stackArmor ThreatAlert platform.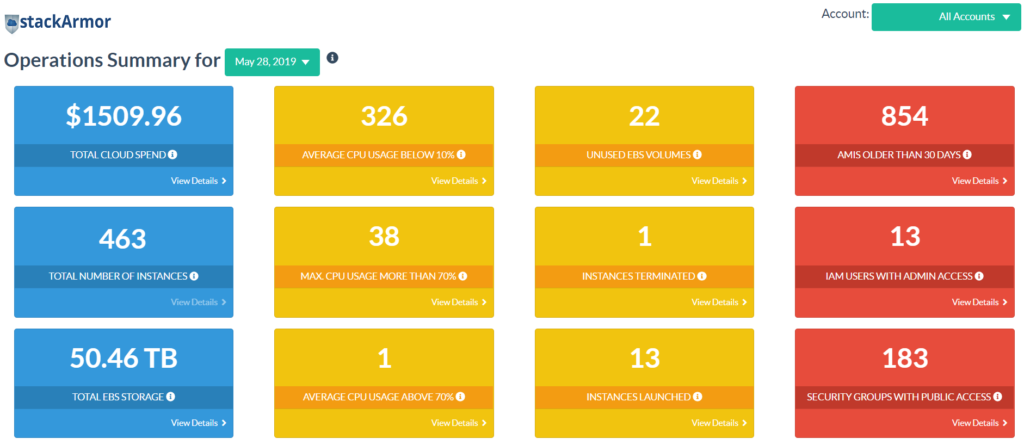 The pricing model is flexible and cost competitive compared with other offerings.
Fixed monthly subscription fee with annual commitment tied to AWS consumption.
stackArmor OpsAlert™ is free for Managed Services and AWS Value-Added Reseller (VAR) customers.
Dedicated deployment model is available for large enterprise customers using docker image file.
All upgrades and enhancements are included as part of the pricing subscription.
Ready for a demo? Contact us by filling out the form here or sending us an email at solutions at stackArmor dot com.