On average organizations are wasting between 40-60% of their cloud capacity due to the inability to easily track idle cloud capacity that is paid paid for but not adequately used. stackArmor OpsAlert provides a powerful and simple 12-card dashboard that includes the Cloud Idle Score to detect and reduce wastage.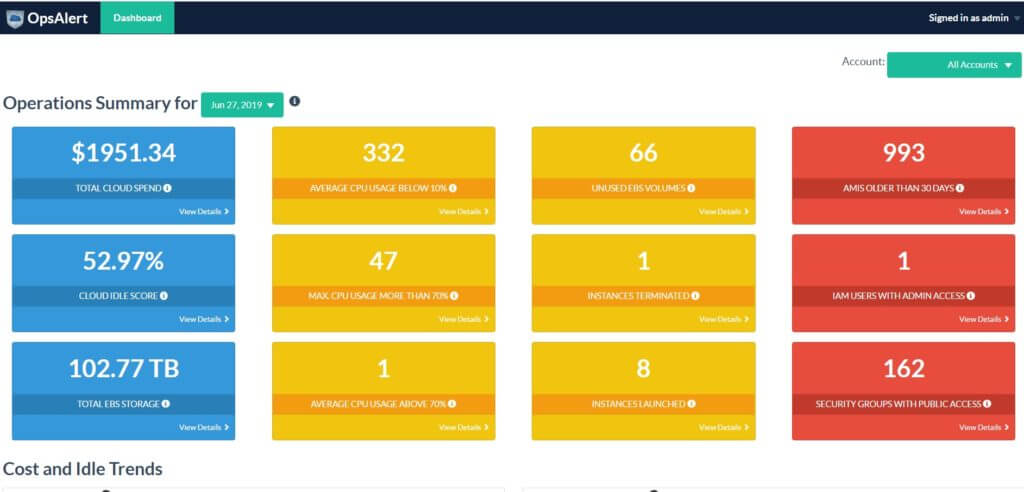 The Cloud Idle Score is especially powerful for helping busy SaaS product owners, cloud hosted product owners and business managers with simple insights into cloud wastage and idle capacity. The stackArmor OpsAlert Cloud utilization scorecard helps quickly identify cloud spend and idle capacity.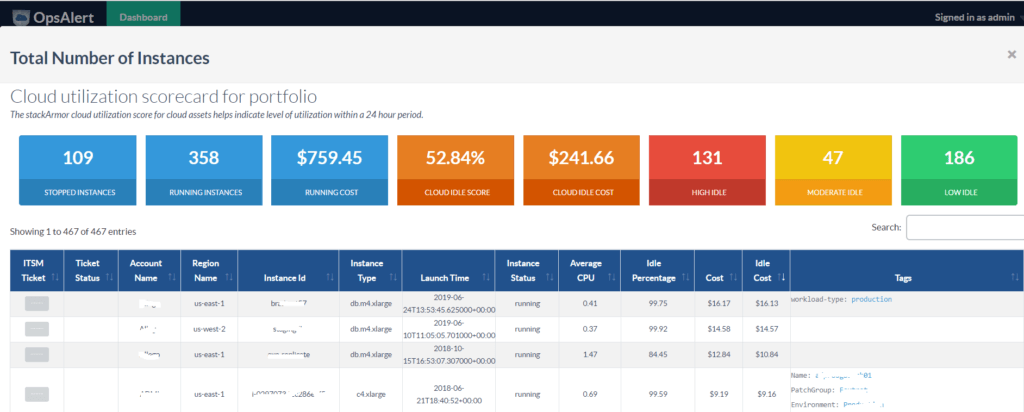 stackArmor OpsAlert provides powerful insight into cloud utilization, cost and idle capacity. Cloud operators can now easily identity resources that can either be shutdown, scheduled or downsized. Cloud product managers concerned with cloud cost management lack simple and easy to understand metrics to keep track of consumption. stackArmor OpsAlert enables accountability through easy management metrics that help drive team behavior. Key features that are part of stackArmor OpsAlert are described below.
Cloud Idle Dectection. stackArmor Cloud Idle Score provides dashboard with detailed information on utilization, cost and cloud resource information to detect idle resources.
Cost Management. Snapshot of total billing by account, region and service. Reduce wastage by detecting unused resources. Includes geospatial view across global regions.
Instance Management. Detect new EC2 and RDS instances created, terminated and potential performance issues. Instance inventory and detect anomalies.
EBS Storage Management. Review total EBS storage consumption, identify unused volumes and old AMI snapshots. Optimize spending on costly disk storage.
Security Operations Management. Monitor Security Groups, IAM user accounts, EBS volume encryption status to ensure security of the environment. Improve security posture quickly.
AWS Governance and Oversight. Cost review scrums and task management. Helps reduce costs and assigns responsibility. Native integration with Jira or ServiceNow.
Role-based Access Management Segregate and view accounts by team or functional area using role-based access including super-user for reviewing all accounts.
Alerting and Reporting Daily email alerts with highly usable dashboard. Integrated ticketing to assign tasks and ensure accountability. Customized reporting by knowledgeable support staff.
Simple Subscription Pricing The service is available on a fixed price annual subscription tied to cloud consumption. Over 60% cost savings over competitive services.
Contact us to see how stackArmor OpsAlert can help you save thousands of dollars by reducing cloud spend.