Government agencies and public sector organizations continue to adopt commercial cloud services at an increasing pace in response to the Covid pandemic. ISV's, Enterprises, and Small Businesses are at the forefront of providing innovative and new cloud service offerings (CSO) in the areas of cybersecurity, healthcare, communications, and collaboration amongst other segments. However, when a commercial organization provides its cloud service to a Government agency or operates in regulated markets, it is critical to obtain a FedRAMP, FISMA/RMF, or CMMC accreditation. Are you interested in learning about FedRAMP accreditation, conducting FedRAMP gap assessment, and how stackArmor can help accelerate your FedRAMP compliance journey? If yes, continue to read further.
The Federal Risk and Authorization Management Program (FedRAMP) is a US government-wide program that provides a standardized approach to security assessment, authorization, and continuous monitoring for cloud products and services. The program is based on the NIST SP 800-53 security standards which are being increasingly adopted globally. New programs like StateRAMP in addition to "DoDRAMP" (aka CMMC) continue to address specific needs in regulated markets.
Organizations looking to participate and take advantage of the rapidly growing Government and Public sector cloud market must get ready by conducting a gap assessment of their environment. A gap assessment provides insights into the existing technical architecture, policies, and procedures. Key elements of a technical gap assessment for FedRAMP, FISMA/RMF, or CMMC compliance are presented below.
System Hardening is the process of securing a system's configuration and settings to reduce IT vulnerability and the possibility of being compromised. The purpose of system hardening is to eliminate as many security risks as possible, and in most cases, this is done by removing all non-essential software programs and utilities from the computer. By removing non-essential programs, account functions, applications, ports, permission, and access, attackers and malware have fewer opportunities to gain a foothold into your IT environment. Using Center for Internet Security (CIS) benchmarks or DISA STIG's are two helpful aids in implementing system hardening standards.
Network/Boundary Analysis refers to the implementation of boundary protection controls and security services. This includes monitoring and managing network traffic for the purposes of detecting and preventing malware, malformed packets, DDoS attacks etc. Gaining a good understanding of traffic volume, activity, bandwidth, and different types of data flows is important. In addition to collecting information about data moving across the network, network analysis tools can help decode the data and display important metrics about it in an easy-to-parse user dashboard, allowing users to understand the current state of network activity at a glance.
stackArmor's Network/Security Gap Analysis for Regulated Markets
stackArmor specializes in implementing NIST SP 800-53 and NIST SP 800-171 based security controls and standards for AWS based customers. Our cybersecurity risk assessment and security gap analysis not only ensure that you are compliant, but it also identifies the areas where you could be at risk. Our team of cybersecurity experts conduct a network vulnerability assessment, IT security audit, penetration testing, web application testing, in short, a complete 360 analysis of your cloud environment. Key areas of analysis include practices and tooling around:
Boundary Analysis
Segmentation/Separation
Code Analysis
Vulnerability Scanning
Web Vulnerability Scanning
IDS/IPS
Anti-Virus, Malware Protection
Security Incident Event Management (SIEM)
Hardening Using CIS Benchmarks
Patch Management
Cloud Monitoring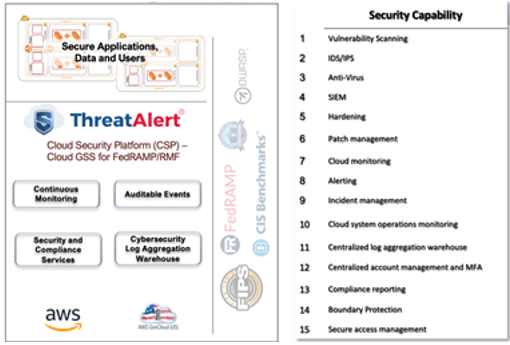 Many organizations struggle to implement robust security and compliance measures due to a lack of understanding or shortage of skilled staff – the stackArmor ThreatAlert® Security Platform is a security and compliance accelerator that quickly enables critical security services. The platform is deployed "in-boundary" through Infrastructure-as-Code (IaC) and delivered as a fully managed service ensuring that all customer data stays within their account.

Are you pursuing FedRAMP, FISMA/RMF, or CMMC compliance for your company? Do you have questions about system hardening, conducting FedRAMP gap assessment, or would you like to understand the cloud security best practices that are suitable for your business? Submit the contact form to schedule a meeting with our Cloud Solutions Specialist.