Large distributed product development teams struggle with effective cloud cost management due to the lack of effective metrics. Product managers and Product owners are presented with cloud bills that consist of technical parameters like number of instances, storage, and reserved instance utilization. Do they really understand them? Are they able to make effective decisions based on that data?
ZDNet's Larry Dignan has identified cloud cost management as a leading issue for businesses. Gartner has also started covering cloud cost management as a critical focus area.
Most Product Owners get overwhelmed by the technical jargon associated with cloud cost management. The lack of simple and easy to understand cloud consumption metrics that allow business users to drive accountability are lacking in most organizations. Most cloud platform operators using AWS rely on detailed billing records (DBR), cloud usage reports (CUR) and associated data to track costs and consumption. But what about cloud consumption efficiency? Are you getting the bang for your cloud spend?
stackArmor's Managed Services and Cloud Management specialists have developed the Cloud Idle Score to detect cloud idling or wastage. Product owners and managers are instinctively able to understand the Cloud Idle Score and strive to engage their technical teams to improve utilization efficiency.
CLOUD SPEND x IDLE SCORE = CLOUD (IN)EFFICIENCY
stackArmor OpsAlert empowers Product Owners and Product Managers to quickly measure and benchmark their cloud consumption efficiency. The screenshot below shows how Product Owners with large distributed development teams can quickly identify "idling" resources that must be monitored and triaged.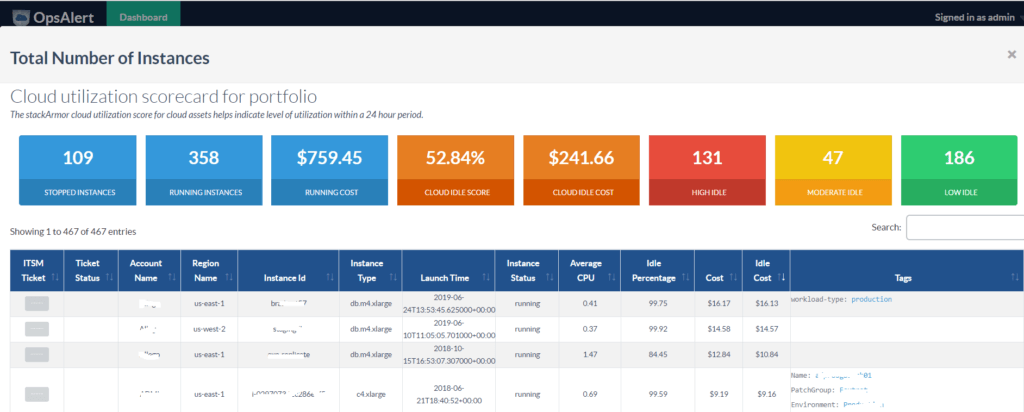 Progressive organizations that are going all-in on AWS can take gain competitive advantage and increase profit margins by optimally operating the cloud hosting infrastructure. stackArmor OpsAlert integrates disparate data sets including cloud usage reports (CUR), Amazon CloudWatch metrics and usage data to provide a single view with utilization and cost data.
Interested in reducing your cloud hosting costs? Schedule a free demo.