Organizations in security and compliance focused markets like healthcare, financial services, public sector and government are looking to rapidly migrate their applications and data to the cloud. However, unlike in the past where a single application or a few applications were being migrated, organizations are looking to transform by migrating entire portfolios and business functions to commercial cloud services like AWS. It is critical to establish a secure and scalable cloud architecture that meets enterprise needs for confidentiality, integrity and availability. A platform-centric approach based on proven network, routing and systems engineering best practices is critical for success as opposed to a piecemeal application focused approach. AWS has continued to make enterprise cloud adoption easier with well established patterns and supporting accelerators.
stackArmor's AWS solution architects have been supporting cloud migrations since 2009 with the migration of Recovery.gov to AWS. Migration automation and security frameworks have matured significantly and make it easier to accelerate cloud adoption. Three key foundational services essential for cloud adoption are – 1) AWS Direct Connect for connectivity, 2) AWS Transit Gateway for routing and 3) AWS Landing Zones for creating a virtual data center in the cloud.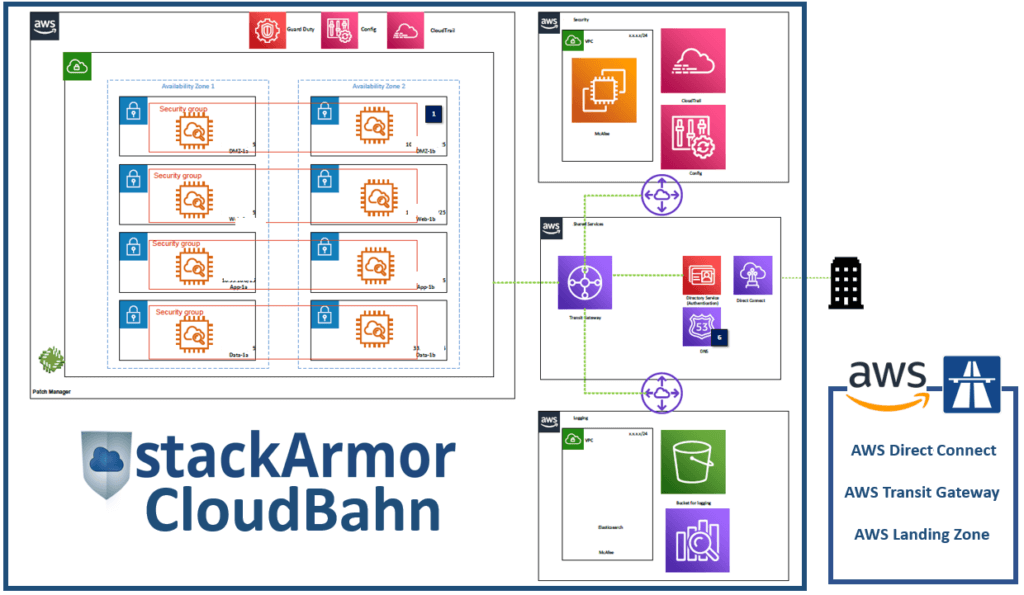 Elements of these services have existed for a period, however the ability to perform transient routing through AWS Transit Gateway has truly helped complete a key mission piece to executing a cloud-native enterprise architecture. The recent availability of AWS DirectConnect support for AWS Transit Gateway has greatly simplified the network architecture for helping connect the enterprise network to multiple VPC's without the need for point to point VPN between VPC's and complex mesh of VPC peering.
AWS Landing Zones have rapidly started maturing providing "lanes" for shared services, management, security, production and non-production workloads in a highly automated manner. stackArmor CloudBahn blueprint provides a proven pathway for enterprises looking for a secure and compliant end to end architecture that helps reduce costly cloud consulting fees by removing the guesswork associated with enterprise cloud adoption. Contact us to see how you can accelerate your cloud journey by using stackArmor CloudBahn for AWS adoption.
Other enterprise cloud adoption topics of interest…