The ability to rapidly collect, process and present log data from the full stack is increasingly becoming important for trouble-shooting, ensuring service reliability and proactive service management. LinkedIn, Netflix and Google continue to drive new standards in implementing new types of architectures and solutions for collecting and processing telemetry data.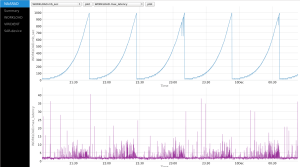 LinkedIn relies on inGraphs and Naarad for their operational monitoring and real-time application monitoring purposes. Specifically, Naarad is a framework for performance analysis & rating of sharded & stateful services. The use cases supported by Naarad include Continuous Integration, Performance Investigation and parses JVM Garbage Collection (GC), System/Network (SAR), Mysql (Innotop), Jmeter (JTL/XML) logs, VMStat, ZoneInfo, and MemInfo.
The link to the github repository is here.
You can read more about how Naarad works by viewing this presentation.