Perimeter Protection Managed Security Services by stackArmor
Perimeter Protection is the application of security practices at network nodes (edge compute resources) that are outside the network core via encrypted tunnels, firewall, and access control. Common web challenges faced by organizations include cybersecurity attacks such as Distributed Denial of Services (DDoS), SQL Injection, Cross-Site Scripting attacks, Bot attacks, and several other web exploits that not only impair customer's applications and infrastructures but also leads to brand erosion and decline in revenues, if not resolved in a timely manner. Setting up the robust infrastructure to detect, protect, mitigate and respond to such attacks is very time-consuming and requires expert resources that may exceed the organization's budget significantly.
As an AWS Perimeter Protection MSSP program partner, stackArmor develops and delivers managed AWS Web Application Firewall (WAF) and AWS Shield services for AWS customers. AWS Perimeter Protection services are currently made up of AWS WAF, AWS Firewall Manager, and AWS Shield. These services are integrated with other AWS services such as EC2, ELB, CloudFront, Amazon Route 53, and Amazon API Gateway.
As an AWS Partner Network (APN) Advanced Consulting Partner, we have successfully delivered managed web and edge protection services to customers in financial security, healthcare, and public sector. Our AWS certified cloud engineers are proficient with Route53, CloudFront, WAF, and Shield Services.
The stackArmor ThreatAlert® Security Platform provides a fully managed monitoring platform that is natively integrated with AWS Security Hub, AWS Macie, and AWS WAF:
ThreatAlert® Security Platform is a compliance accelerator for FedRAMP, FISMA/RMF, HIPAA, PCI-DSS, ITAR, and CMMC accreditation on AWS and AWS GovCloud. The ThreatAlert® Security Platform is a vetted AWS solution that provides critical security controls required for meeting NIST SP 800-53 based requirements. ThreatAlert® supports FedRAMP High, Moderate, Low; DOD CC SRG IL-2, IL-4, IL-5, and CMMC Level-3, Level-4, and Level-5 baselines including CUI.  The ThreatAlert® Security Platform provides an "in-boundary" suite of cloud-native & cloud augmented security services. The security services cover all major NIST control families including – code analysis, boundary protection, FIPS compliance, SIEM, MFA, vulnerability management, and auditable events monitoring amongst other services. All ThreatAlert® services are compliant with FIPS, CIS Benchmarks, and OWASP standard and integrating with Perimeter Protection services such as AWS WAF, AWS Shield, and AWS Firewall Manager provides continuous monitoring and protection against cybersecurity attacks such as:
– Distributed Denial of Service (DDoS)
– OWASP Top 10 / Web Exploits
– Bot Attacks
– Layer-7 attacks (HTTP/DNS etc)
– Layer-3 and Layer-4 attacks (SYN/UDP flood, Reflection attacks, etc)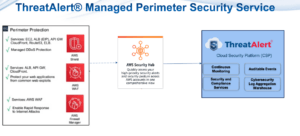 Benefits of the stackArmor ThreatAlert Cloud Security Platform
Fully Managed: As a fully managed service, stackArmor provides post-deployment support and ongoing security management. Additionally, we provide monthly reports of relevant activities seen in AWS WAF and AWS Shield via the analytics dashboards. This helps identify attacks, ensure appropriate steps are taken to mitigate the risks and make sure that new rules or policies are implemented to avoid any attacks in the future.
Quick Integration: stackArmor provides an end to end integration of security services including log configuration, agent deployment, and setup of alerts and dashboards for critical and auditable events. Once requirements have been defined, stackArmor implements AWS WAF/Shield services in customer's accounts by setting up a staging environment to configure WAF, Shield, and Web ACL. The dashboards and alarms are then set using:
– Amazon CloudWatch
– Amazon Elasticsearch
– AWS WAF and Splunk Integration
– AWS WAF and Sumologic Integration
– AWS Shield engagement Lambda
High Availability: We ensure rapid solution enablement using our Discover, Design, and Deployment sprints methodology to ensure compliance with NIST SP 800-53 security requirements within customers' AWS accounts. No data ever leaves the customer environment. The deployment configuration supports existing AWS accounts as well as new environments.
Cost-Effective: We help customers avoid high priced consultant costs by using pre-integrated security services mapped to NIST. At stackArmor, we adhere to AWS Security Best Practices, Best practices for implementing AWS WAF, and Best practices for DDoS Resiliency.
Fast Resolution: stackArmor maintains an AWS Enterprise level support on all accounts in the program. We also operate a 24×7 security operations center (SOC). Our AWS Certified Engineers are well trained and accessible when required.
Do you need help with managing your website or web front with 24/7 security and monitoring services? Contact us by submitting the form below: