stackArmor has developed a unique solution for MSP's and VAR's to offer rapid and easy to use "Turbo-tax" wizard for cloud platforms such as AWS and Azure. Cloud marketplaces are rapidly emerging as preferred ways for enterprise users to select, buy and provision enterprise applications. AWS Marketplace is one such example and there are many others from other solution providers including Azure, IBM and Oracle. However, these marketplaces are generic and do not offer the ability to create a customized user experience. stackArmor's Micro Marketplace allows MSP's and VAR's to create their own customized cloud marketplace and retain ownership of their customers. Leading industry analysts such as Pam Miller from IDC and Daryl Plummer from Gartner have predicted the rapid rise of cloud marketplaces. MSP's and VAR's must offer customized and value-added cloud bundles and own their user experience to avoid getting disintermediated. Schedule a call with the stackArmor Micro Marketplace experts to help you win in the new cloud world.
MSP/VAR Challenges
MSP's and VAR's are challenged with retaining the customer relationship as more and more customers adopt cloud marketplaces for finding and installing software and getting support. The current cloud marketplaces are operated by large CSP's that make it challenging for MSP's and VAR's to differentiate themselves and "stay in the game". Retaining the customer relationship by offering a customized bundle of value-added cloud services is critical for MSP's and VAR's. The cloud automation and marketplace experts at stackArmor have developed a unique Micro Marketplace solution that allows MSP's and VAR's to successfully create their own identity and presence in the fast growing cloud solutions space.
Solution
A customized and white-labeled cloud storefront that offers customers the ability to rapidly select, price and deploy applications in AWS or Azure is critical to helping VAR's and MSP's retain control of their customers and offer differentiated service bundles. stackArmor's cloud automation and cybersecurity experts have designed the Micro Marketplace concept based on over 7 years of cloud migration and managed services experience. stackArmor's stackBuilder platform is offered as a service and provides a white-labeled Micro Cloud Marketplace that unique and customized for every VAR or MSP. The platform is built on top of the AWS Marketplace, and incorporates cybersecurity best practices as well as the AWS Well Architected Framework (WAF). The stackArmor solution allows MSP's and VAR's to provide a fully managed service that is compliant with specific security and hosting needs of their enterprise customers. The screenshot below shows how stackBuilder works.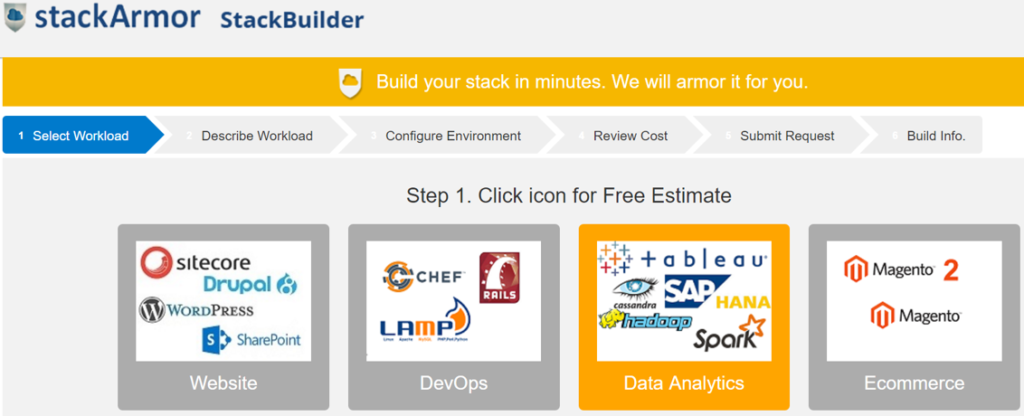 Micro Marketplace
The stackArmor stackBuilder Micro Cloud Marketplace is fully customizable cloud storefront for MSP's and VAR's to meet the cloud hosting needs of their customers. Managed Services Providers (MSP), IT Distributors, and Value-Added Resellers (VAR) can leverage and deliver new innovative cloud services to their customers using the stackArmor StackBuilder platform. The platform has the following features:
White-labeled cloud storefront
Customized offerings for specific customer segments and use cases
Integrated pricing engine for differentiated pricing bundles
Fully integrates with AWS Marketplace, Azure and allows for custom workloads
End-to-end deployment from selection to installation and deployment of application
The stackArmor Micro Marketplace solution helps MSP's and VAR's rapidly engage their customers and offer data, devops, iot or website solutions with choices that are uniquely configured for a differentiated offering. Leading organizations such as the Advanced Technology Academy Research Center (ATARC) and the Texas Instruments Development Network (TIDN) for IOT are two examples of how the Micro Marketplace concept operates.
Free Demo
If you are interested in a risk free demo and want to see how you can take advantage of Micro Marketplaces, please call us at 888-964-1644 or send us an email at solutions at stackArmor dot com.